Overview
Medpace is a scientifically-driven, global, full-service clinical contract research organization (CRO) providing Phase I-IV clinical development services to the biotechnology, pharmaceutical and medical device industries. Medpace's mission is to accelerate the global development of safe and effective medical therapeutics through its high-science and disciplined operating approach that leverages regulatory and therapeutic expertise across all major areas including oncology, cardiology, metabolic disease, endocrinology, central nervous system and anti-viral and anti-infective. Headquartered in Cincinnati, Ohio, Medpace employs approximately 4,700 people across 41 countries as of March 31, 2022.
(Common Stock)
Change (%)

Volume

Date as of
Data Provided by Refinitiv. Minimum 15 minutes delayed.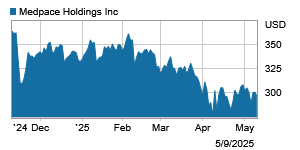 Upcoming Events
More events are coming soon.
Primary IR Contact
Medpace Holdings, Inc.
5375 Medpace Way
Cincinnati, OH 45227
Phone: +1.513.579.9911
investor@medpace.com