Overview
Medpace is a scientifically-driven, global, full-service clinical contract research organization (CRO) providing Phase I-IV clinical development services to the biotechnology, pharmaceutical and medical device industries. Medpace's mission is to accelerate the global development of safe and effective medical therapeutics through its high-science and disciplined operating approach that leverages regulatory and therapeutic expertise across all major areas including oncology, cardiology, metabolic disease, endocrinology, central nervous system and anti-viral and anti-infective. Headquartered in Cincinnati, Ohio, Medpace employs approximately 4,100 people across 40 countries as of June 30, 2021.
(Common Stock)
Change (%)

Volume

Date as of
Data Provided by Refinitiv. Minimum 15 minutes delayed.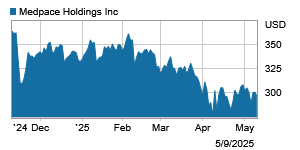 Upcoming Events
October 26, 2021 at 9:00 AM EDT
Primary IR Contact
Medpace Holdings, Inc.
5375 Medpace Way
Cincinnati, OH 45227
Phone:
+1.513.579.9911
investor@medpace.com